It's time to Stop Fighting Disease and Embrace Health
Embrace Health offers safe, convenient, effective and natural solutions and education to support your body, mind and spirit in total health and well-being.
Did you know that in days past, the Superior Physician was only paid if their clients stayed healthy?
Embrace Health is about a new health paradigm, one that traditional medicine and methods do not follow. This new paradigm states that given the proper conditions, our bodies have the innate ability to heal themselves and be healthy.
What easy steps can we take to support our body in health?
Of course, there are some situations where medicine and the superior technologies we have are critical to our lives and should be used. However, the vast majority of prescription drugs are used to treat symptoms and they do not address the underlying root cause. Drugs rarely address the root cause issues of heath, they just cover them up.
This site is a doorway – a doorway to many possibilities and to I hope your further awakening.
If you are currently healthy – GREAT! What are you doing to ensure continued health?
If you are currently having a health challenge, what can you do to support your body?
I encourage you review our information, resources and natural solutions available within this site, and take responsibility for your own health! One of the most important things you can do to safeguard your health is LEARN the real truths and take action.
Welcome to a new paradigm: Embrace Health! You are worth it!
Michelle and Les Moore
Founders of Embrace Health Inc.
Featured Resource: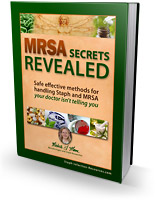 The Staph and MRSA Secrets Revealed Program
Our comprehensive program that covers dozens of natural Staph and MRSA remedies that work, and how they've been used. Also included is a 3 step method to stop Staph and MRSA. Also includes how-to audios and videos, interviews with health professionals, a holistic practitioner network and email support with Michelle and Les Moore. Click the above link to find out more.